It is not often that a privately run mass participation event hands out in excess of $120,000 in cash and prizes to charitable organisations but that is exactly what occurred tonight in Auckland.
The BDO Wellington to Auckland Cycle Challenge is about real New Zealanders taking on the (for some) daunting prospect of riding from Wellington to Auckland in 7 days, for many the most difficult and challenging thing they have ever taken on.
It seems only fitting then that many New Zealanders who face much bigger personal challenges will benefit from the efforts of the 160 riders who two weeks ago took part in the 6th edition of this growing event.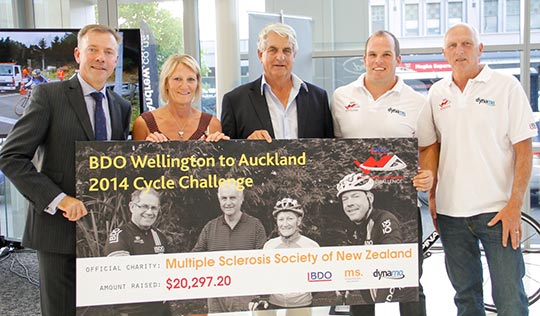 The Cancer Society tonight received a $100,000 prize of cash, product and services as the chosen charity by Corporate Challenge winners Team 2degrees while official event charity Multiple Sclerosis New Zealand received a cheque for $20,297, with the money raised during the event by individual riders and event organisers Dynamo Events. The final amount donated to MS will however be closer to $30,000 once all donations have been counted.
Team 2degrees took part alongside 9 other corporate teams in the inaugural Corporate Challenge category, riding throughout the week in their own group, chasing points and bragging rights on each of the 13 stages of the BDO Challenge and it was 2degrees who came out strongest at the end of the week.
2degrees Head of Technology Operations and team captain Chris Heunes was honoured to have ridden the event and more so to hand over the hard earned prize not to his riders, but to their chosen charity.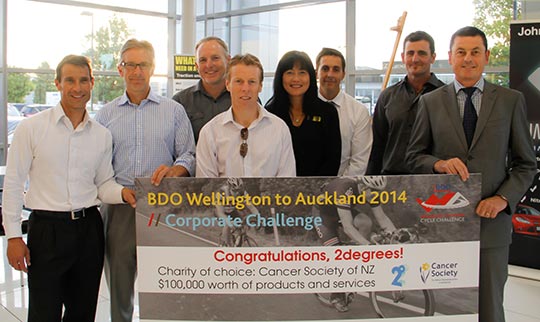 "Team 2degrees is absolutely delighted to have won the race and to have the privilege of passing on the $100,000 prize to the Cancer Society. All of our cyclists have been touched by cancer in some way. All have lost friends and family members to the disease and this was a huge motivator for us.
"The race itself was an epic journey that was not only challenging, but thoroughly rewarding. Our heartfelt thanks go to the event sponsors and organisers who made this possible .We'd also like to extend our thanks to 2degrees partners for supporting the team: Huawei, Next Gen Innovation, GKC, 6d Technologies, Oracle Communications and Tecnotree."
David O'Connor is a partner and Chairman of event sponsor BDO and he too took part, completing each and every kilometre of the journey alongside his BDO team mates.
"The BDO Corporate Cycle Challenge saw over twenty thousand raised for MS, a debilitating disease, it increased awareness amongst New Zealanders as well as raising funds for the benefit of those affected. This was in itself a worthy reason to cycle.
"In addition the BDO Corporate Challenge gave those organisations who entered an opportunity to win for a charity of their choice a $100,000 prize pool as well as give further exposure to the very good work those charities do in our local communities.
"The BDO challenge saw Corporates and their staff taking time away from the office along with associated clients and suppliers to cycle together for a common purpose, building team spirit and camaraderie, all in all the BDO Wellington to Auckland Challenge was a huge success."
Dynamo Events Director and former Olympic Games cyclist Stephen Cox was thrilled with the success of the event and the chance to make a difference with two deserving charities.
"I have to thank all of those who participated; the vast majority of them are just everyday normal Kiwi people who love taking on a challenge. Our solo riders are just fantastic, as well as riding every day, many of them fundraised and contributed during the week to raffles and our official auction night at Ohakune for MS.
"And the corporate challenge added something different to our event, adding a new dimension with some great friendly rivalry during the week. It is all of our participants who are the stars; they inspire us with their riding and the money raised all goes to MS."
Business supplying cash, product and services to the $100,000 prize for the Corporate Challenge were: ASB, BDO, John Andrew Ford, Ideas Shop, Ogilvie, Xero, Lowndes Associates, Langton Hudson Butcher.