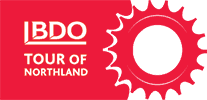 NEW COURSE IN 2023!!
After 20 great years its time for a change! The 2023 BDO Tour of Northland will take a totally different route to what it has in the past 20 years. The 2023 event will see us head to Kerikeri for the first time in the events history. Day 1 will remain the same as it has for the past few years but we have 3 all new courses for the remainder of the tour.
The event will continue to touch New Zealand's essence: unsurpassed nature estate, scenery, fishing, diving, walks, culture and heritage, golf, food, wine and people.
You will discover New Zealand in a nutshell. A must for participants from both within New Zealand and overseas.
All abilities are welcome to participate – elite riders, competitive masters, weekend warriors, cycling tourists, and social or corporate groups – this is a fun few days with a great bunch.
You don't want to miss the 2023 version of the BDO Tour of Northland.