Jerseys & Prizes
Five jerseys are up for grabs throughout the event awarded on the following criteria: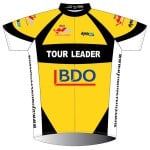 General Classification
– Yellow Jersey –
The Yellow Jersey is awarded to the overall leader from all categories and age groups. The overall winner will be the person who has the lowest cumulative time for all the stages.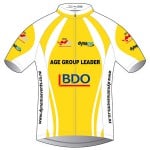 Age Group Leader
– Yellow & White Jersey –
All riders will be able to compete against others in their age bracket. Age groups will be split into 10 year categories such as 40 to 49 years. The male and female leading their respective age groups will be given the honor of wearing their Age Group Leader Jersey.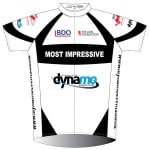 Most Impressive
– Coloured Jersey –
The race organisers will award points each day to competitors who they feel have had an outstanding ride that day. The rider with the most points at the end of the ride will be the "winner". There will be a Most Impressive jersey to be worn each day for the Most Impressive point leader.
Nightly Prize Giving
At the completion of each day a prize giving is held, with the event jerseys and spot prizes given out.
Nightly Prize givings will kick off from 5pm with the daily presentations taking place at around 6pm.
Sunday 12th
MASTERTON
—
Solway – Copthorne Hotel
High Street
Monday 13th
PALMERSTON NORTH
—
The Palmerston Club
22 Linton Street
Tuesday 14th
WANGANUI
—
Wanganui Cycling Club
Cooks Garden
Please note – Dinner venue is Quality Inn Collegiate, Liverpool Street
Wednesday 15th
OHAKUNE
—
The Ohakune Club
71 Goldfinch Street
Thursday 16th
TAUPO
—
Suncourt Hotel
14 Northcroft Street
Friday 17th
HAMILTON
—
TBC
Saturday 18th
PUKEKOHE
—
Final Presentation – 30 minutes after the final rider
Pukekohe Cossie Club
Please note – You must be present to win any prizes