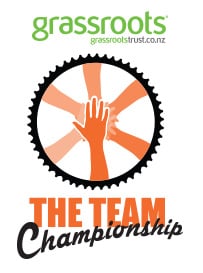 The Grassroots Trust Team Championship 2021 – Race 3 Ngaruawahia
Is your Team up to it?
We have made some changes to the format of the Team Series for the 2021 edition. The 6 rounds will now be completed prior to Christmas and will include one super weekend of 3 events across two days of racing.
The goal of the series is to provide a competitive team's racing series where you compete in a grade that suits your ability – not your age, have fun with your team mates and race in a safe and friendly environment.
A six round Team based series with different grades to suit all levels, the series offers a challenge to all competitive cyclists. Whether you're an elite rider, up and coming junior, veteran competitor or just a keen weekend warrior there is a grade for you. The Team Championship gives you the opportunity to create a team with work mates, friends, other club riders or whoever else you may want to include.
Dates for the upcoming Team Championship season:
Race 1: Saturday 18th December 2021
Race 2: Saturday 22nd January 2022
Race 3: Sunday 23rd January 2022
Race 4: Sunday 6th March 2022
Race 5: Saturday 27th March 2022
Race 6: Sunday 1st May 2022